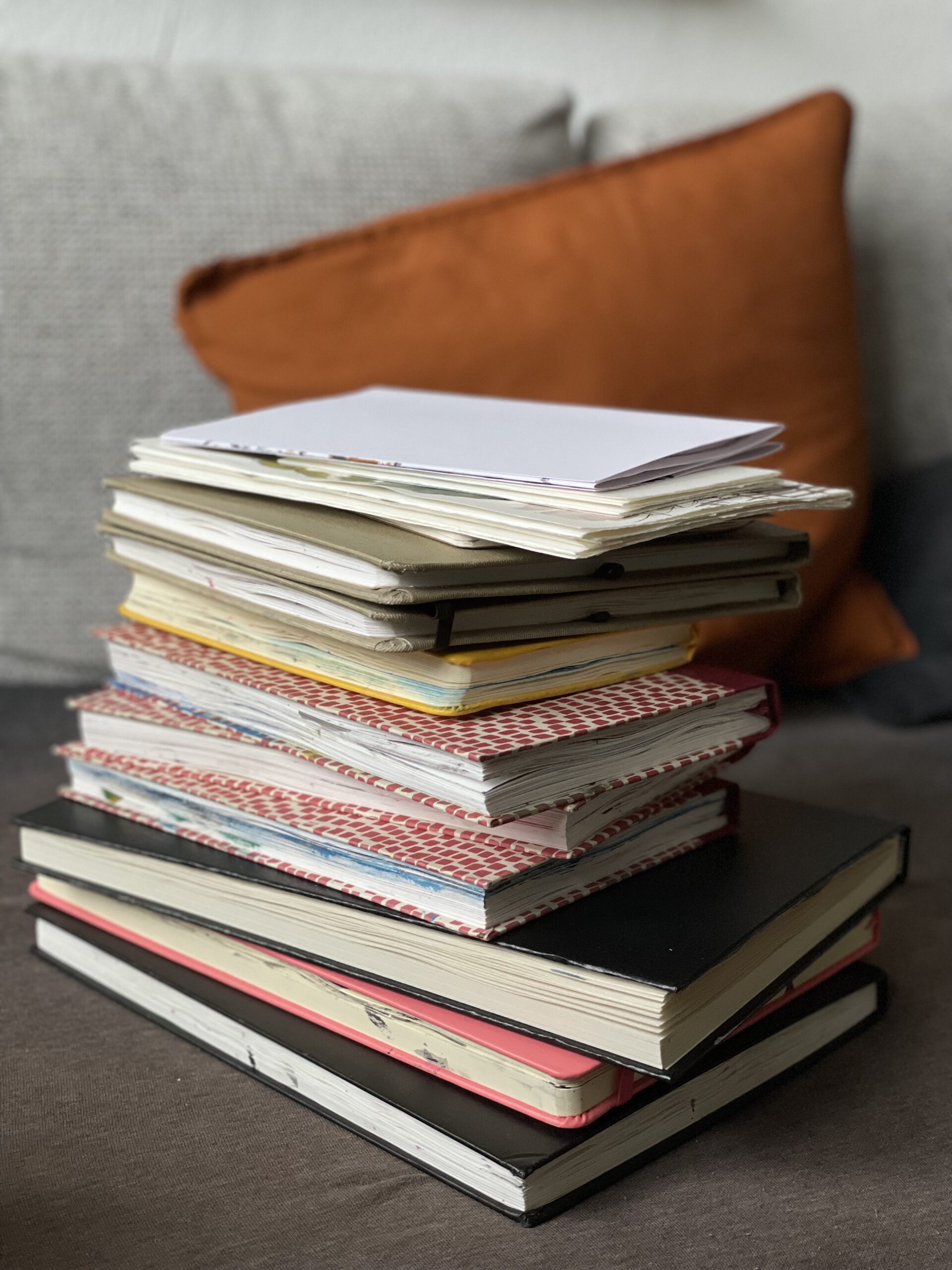 28 Dec

2021 sketching review – Looking back at this year's sketchbooks

Looking back at my sketchbooks and taking the time to reflect on this years sketching adventures and learnings is one of my favorite parts of this time of the year. Looking back at my sketchbooks and getting clear about my learnings really helps me get better at sketching. 

This year I filled about the same amount of sketchbooks as last year. Due to the pandemic a lot of sketching took place in online sketching sessions. The two travel sketchbooks I managed to fill this year are among my favorites.

Since sketching on location was limited again this year due to the pandemic, I experimented with new materials and mixed media which resulted in quite a wide range of subjects. But have a look for yourself.
My learnings in sketching this year
The importance of playing with materials - discovering inks as a new favorite tool
Within Emma Carlisle's Patreon several groups formed to meet for online sketching sessions. We would draw from photo references and do timed sketches within 2 – 15 minutes. These sessions were great to play with different materials. In one of these sessions I realized that phtalo blue and yellow ochre ink mix to the most beautiful greens. This was the sketch where I first made this discovery. Every since then, I love using those two inks for greenery.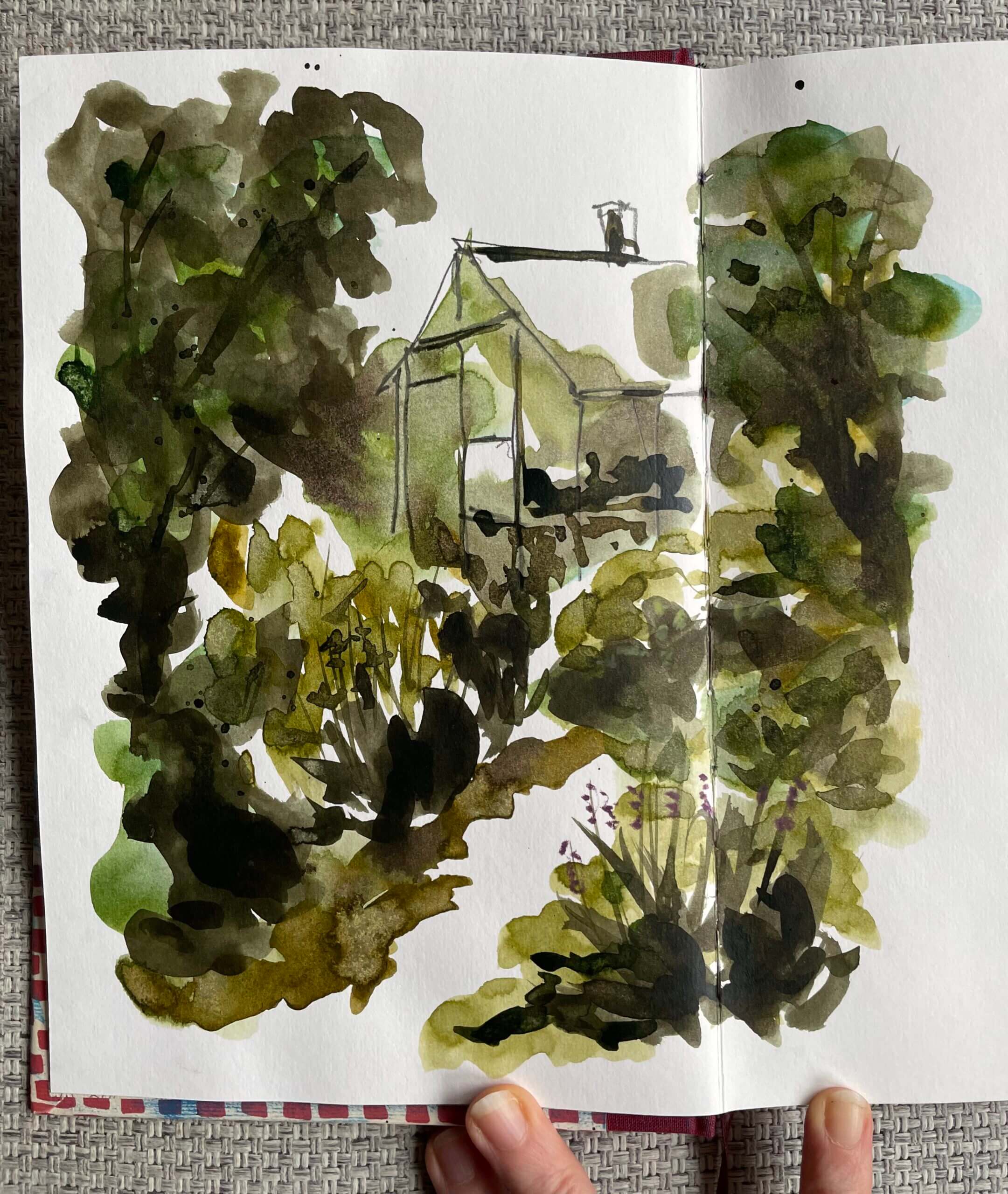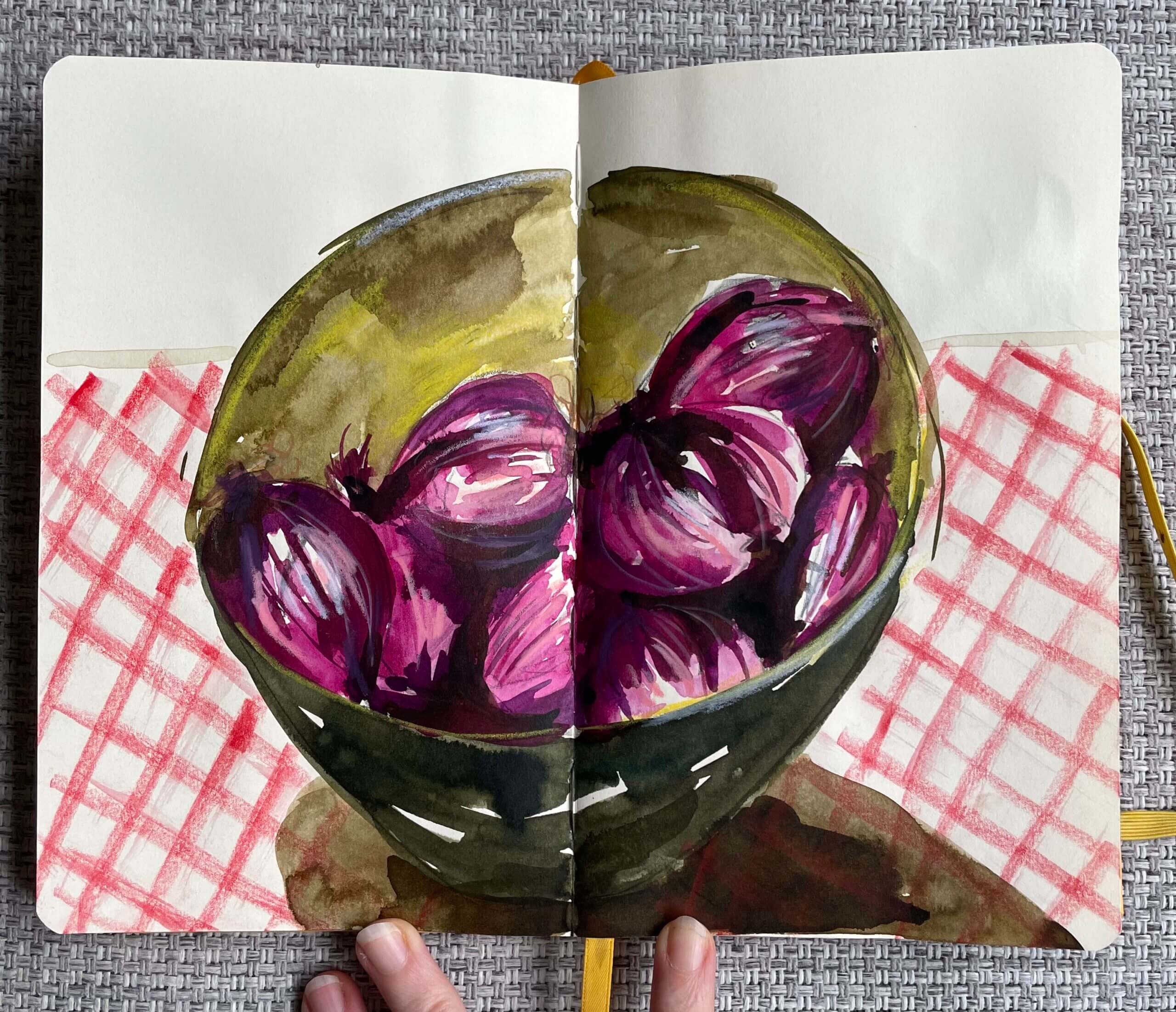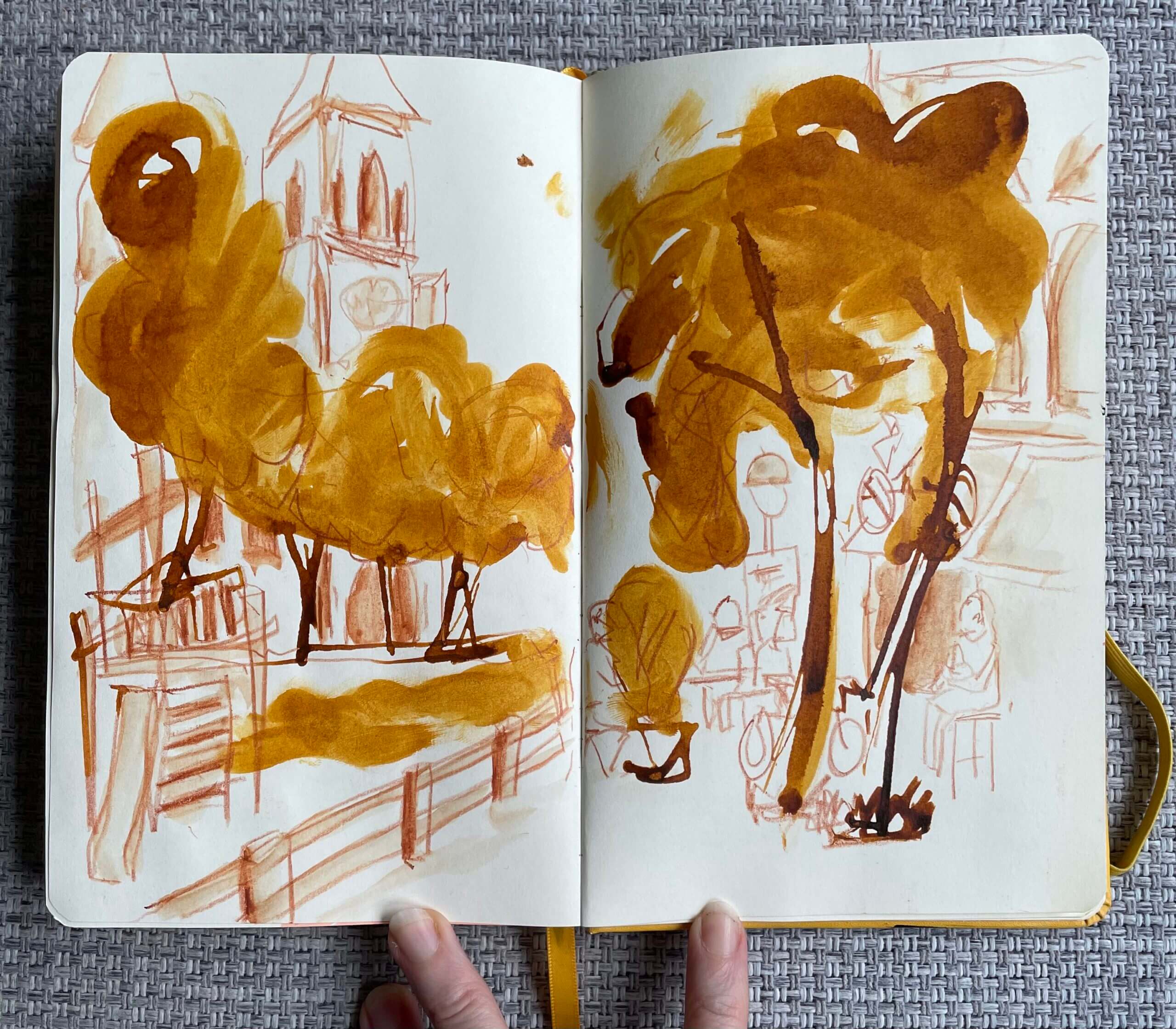 The ink comes in little bottles with a pipette. It's so much fun to push the ink around using a finger. No need for a brush - but for a tissue later on to clean the fingers. 
The joy of sketching faces
@earthsworld on instagram posts pictures of ordinary (sometimes not so ordinary) people. It's an endless source of reference materials to draw people.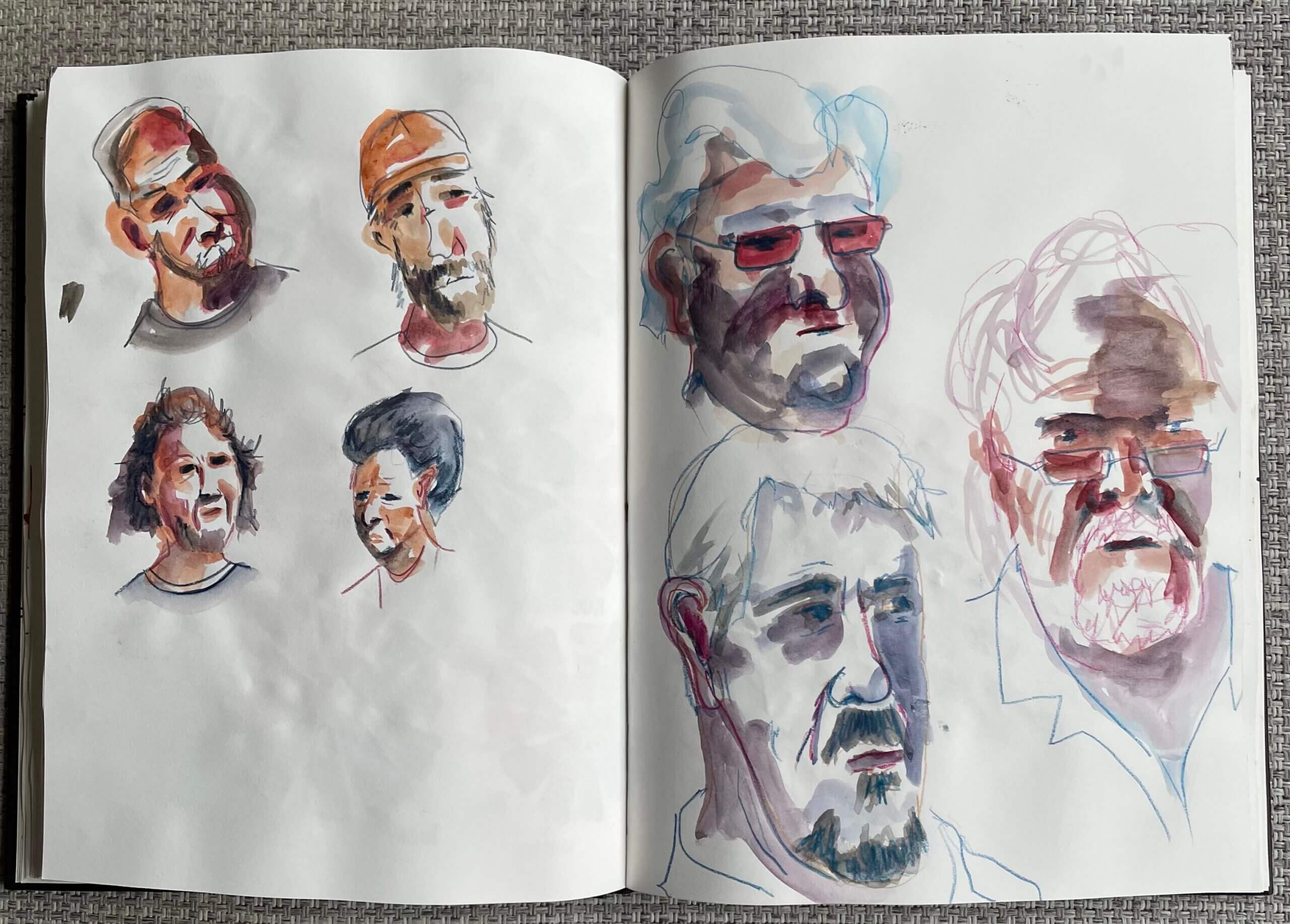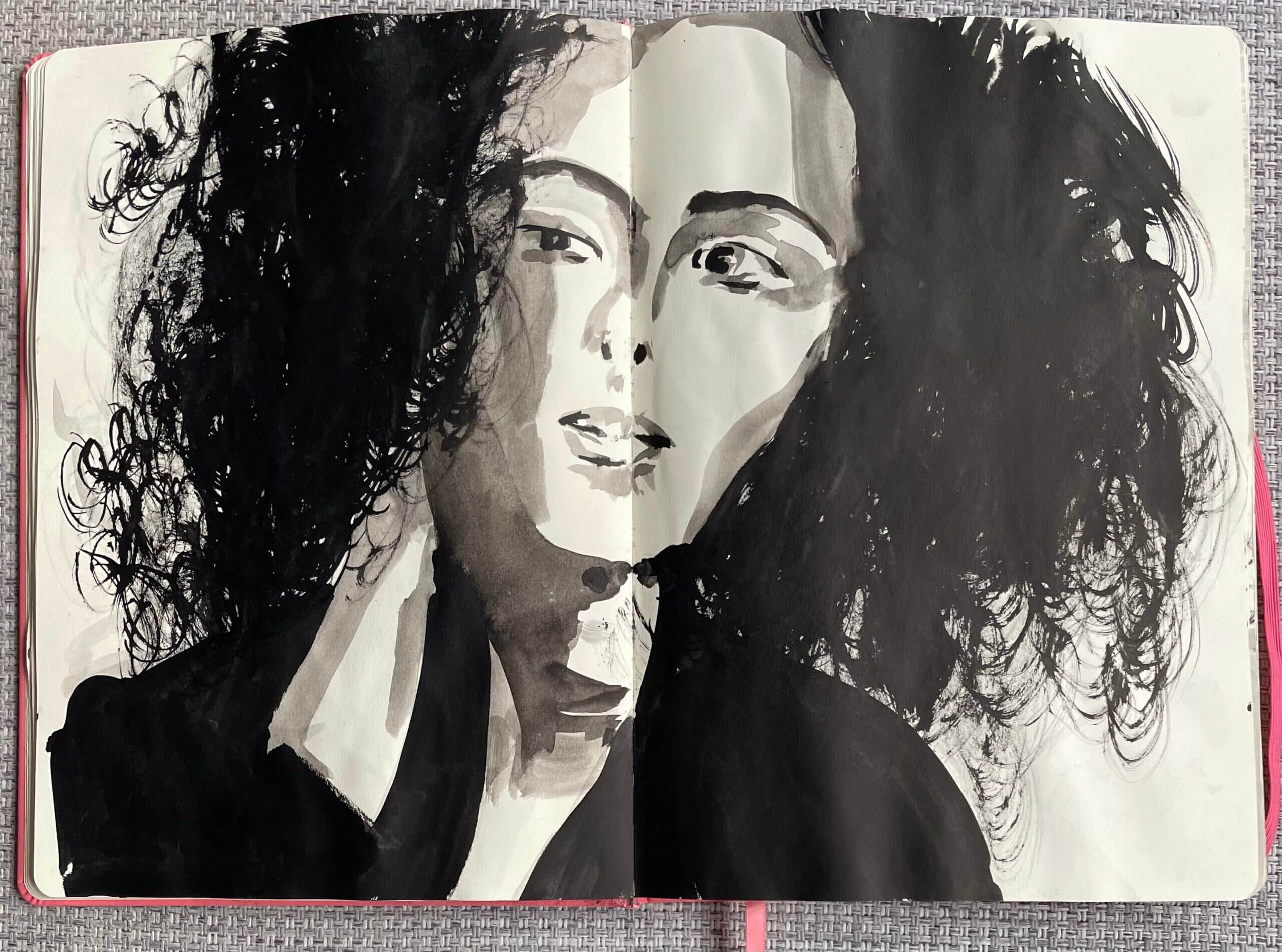 This joy of sketching faces also influenced my approach to inktober. Just like last year I sketched portraits and enjoyed going big and bold in my A4 sketchbook.
Shot settings - finding interesting angles to tell a story
I love the loose style of Felix Scheinberger. He released a class on Domestika where he also talks about shot settings – different camera angles in movies to create atmosphere. One of the exercises was finding these different shot settings in the movie "high noon". I really enjoyed doing these thumbnails.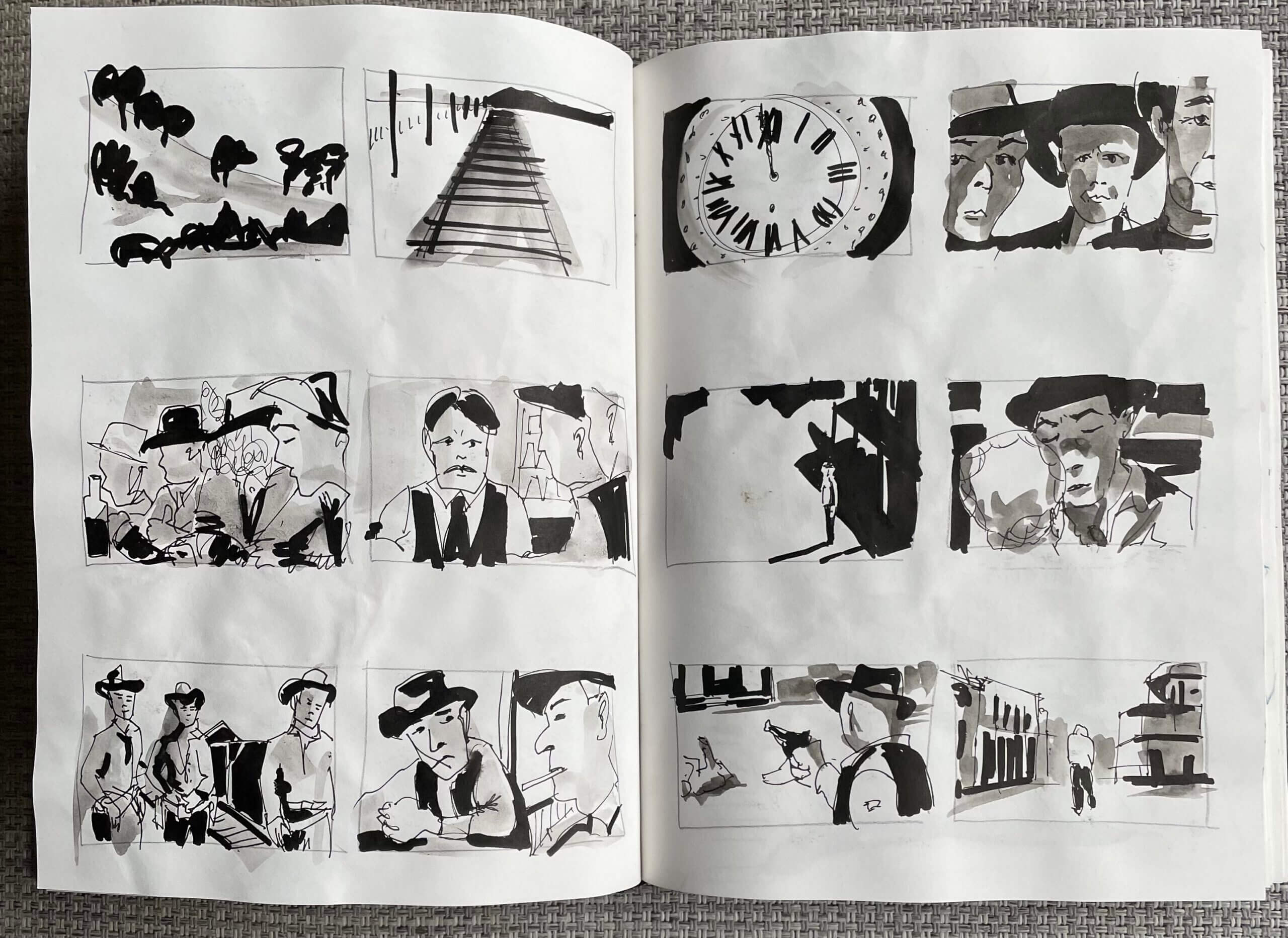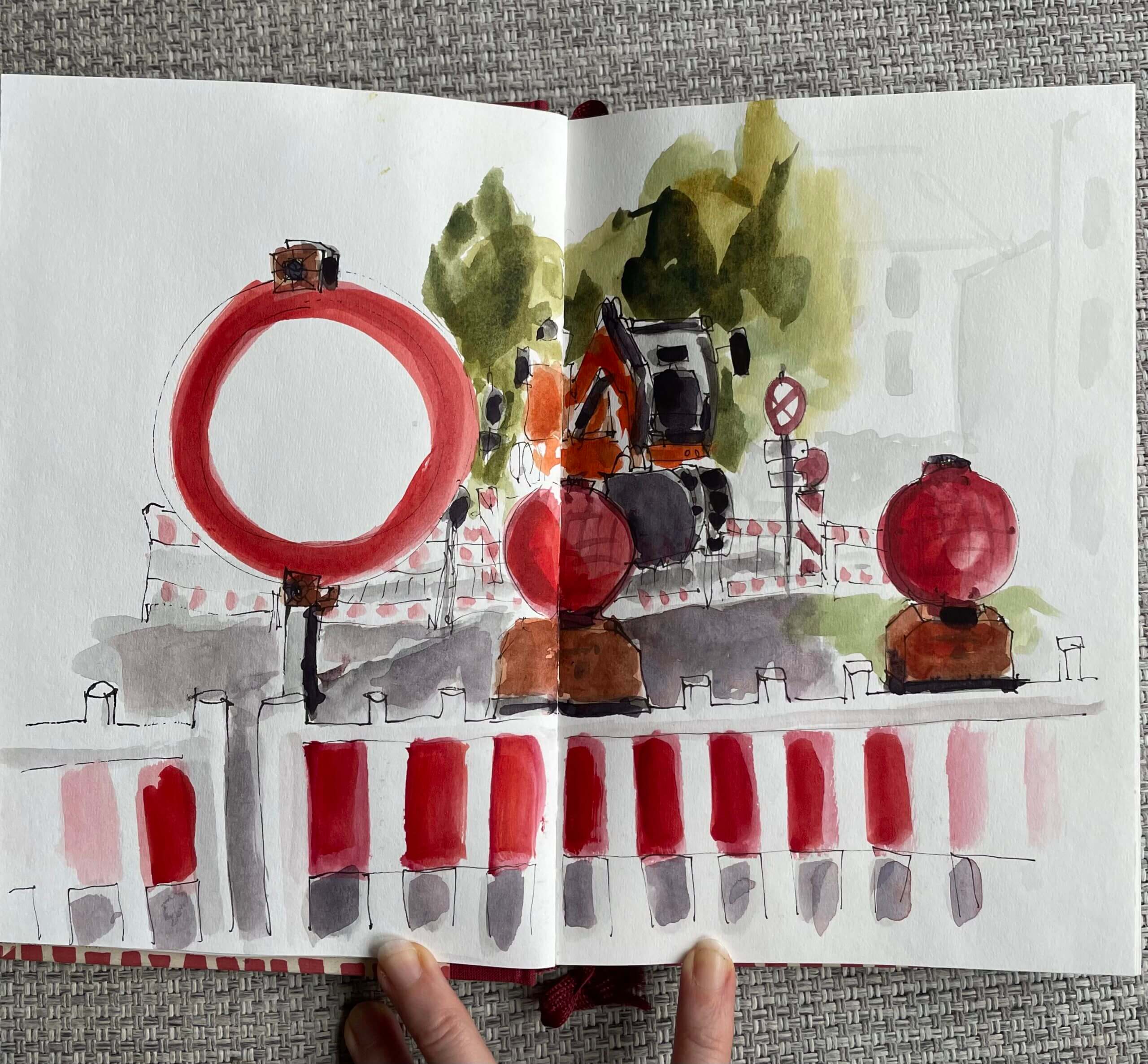 I love to sketch constructions sites. This one was influenced by Felix Scheinberger's shot setting exercise. 
One of the workshops I took this year was with Rita Sabler on visual storytelling. After she explained the essentials of a good story we ventured out to capture a scene. I highly recommend this workshop!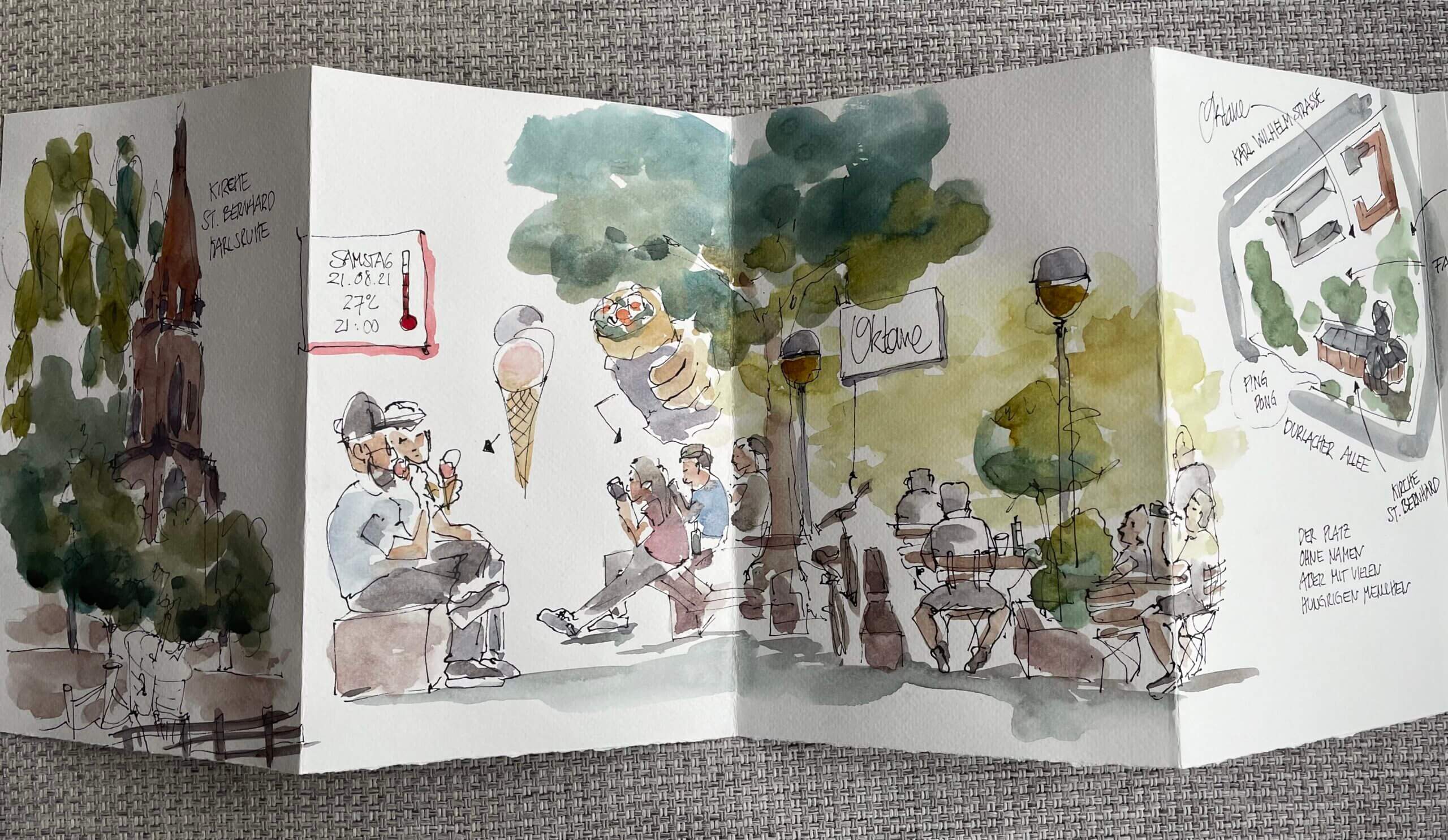 A recurring theme for me is limited color palettes. I love to get new materials, however my watercolor palette has not grown much in the past year. And actually I would like to cut down on the amount of colors I carry with me. This was one of the attempts to find the colors I can't live without.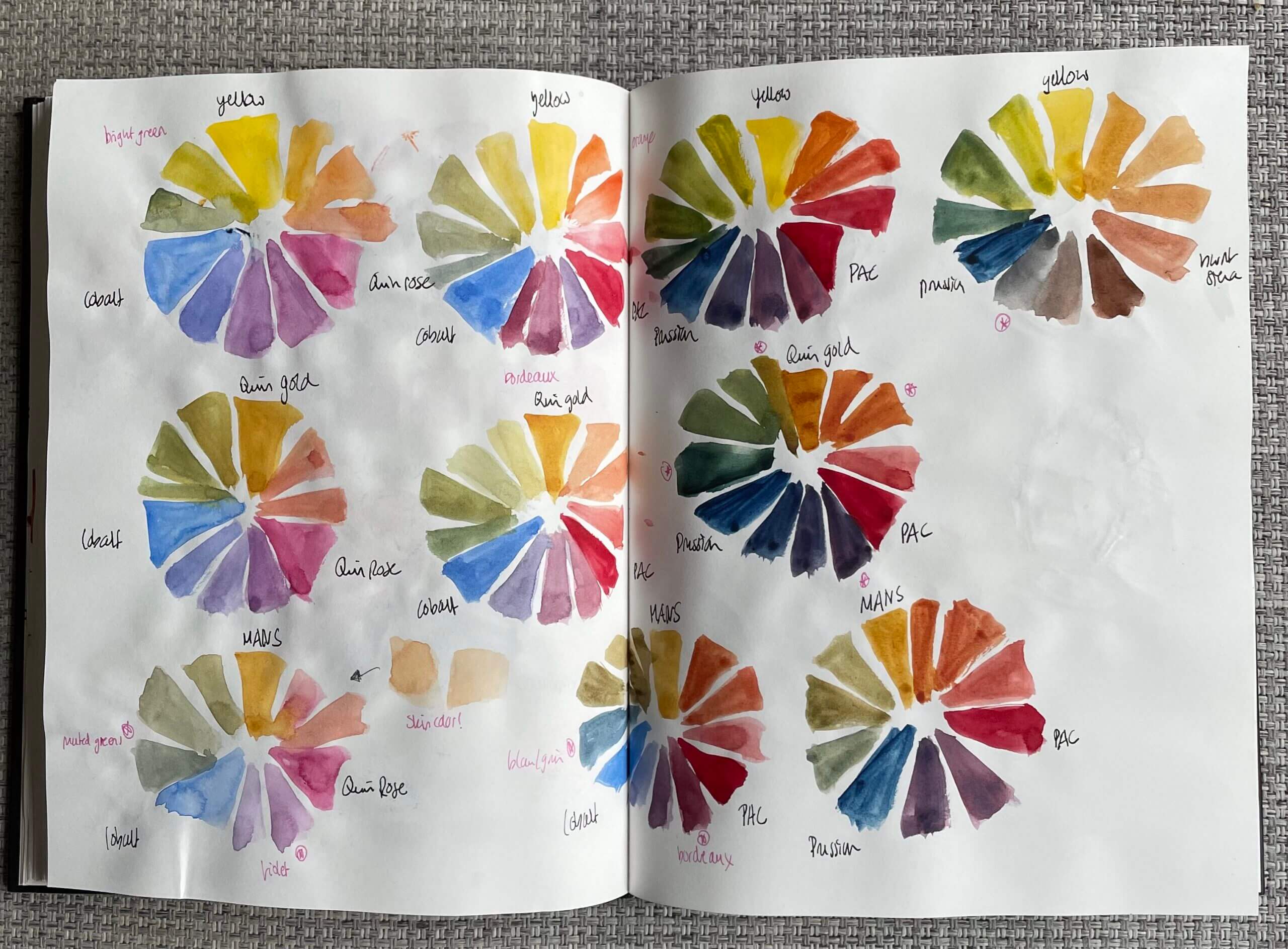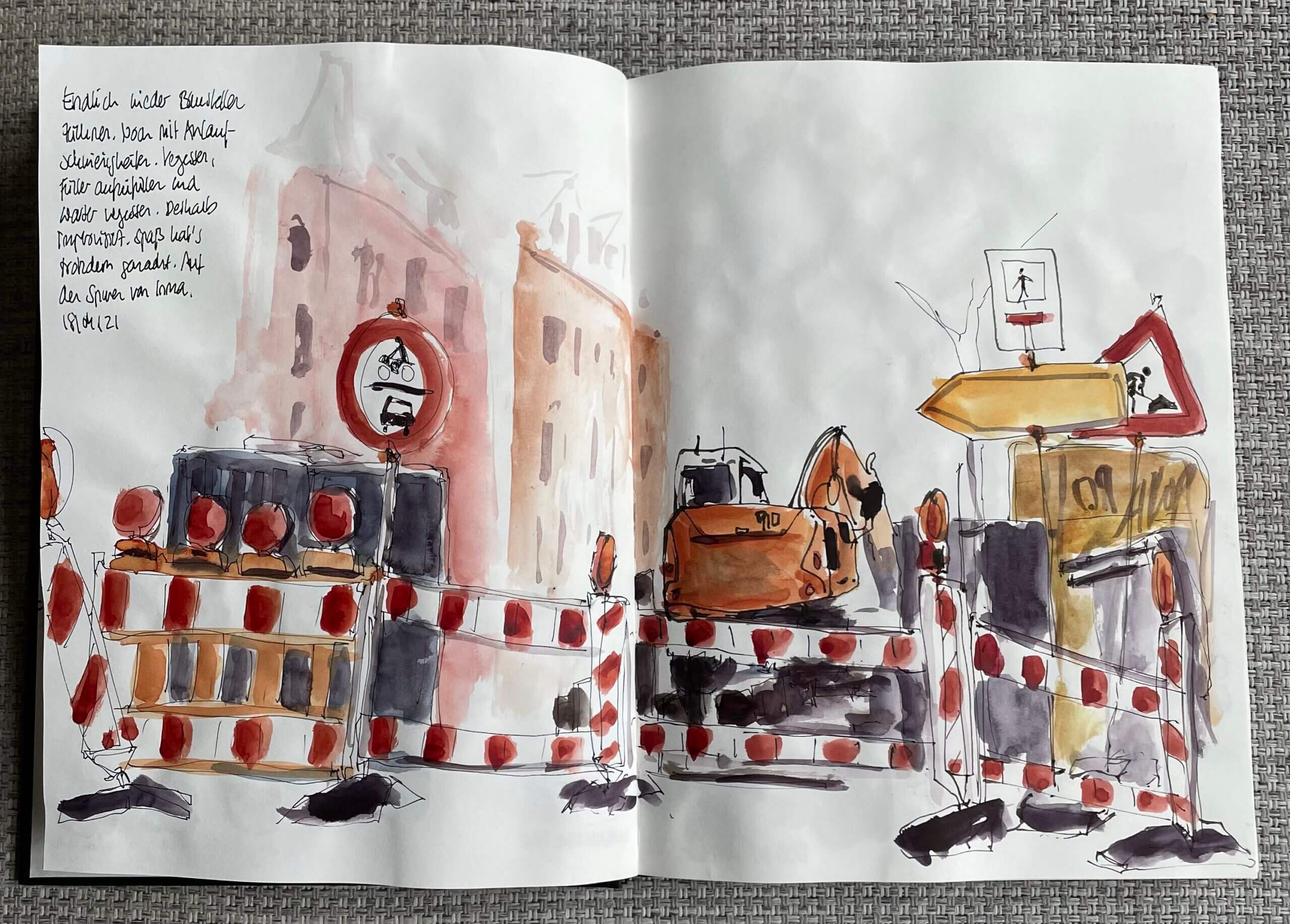 This sketch has been done with a limited palette. I like the color combination which proofs again that less sometimes is more. 
Thinking about sketchbook design
Beginning of the year, I took Liz Steels class on sketchbook design. Up until then one sketch would go on one sketchbook spread, no text added. I did think about layout in my travel sketchbooks but not really in my everyday sketchbooks. So spending time with the many different possibilities of making a sketchbook page more interesting was great.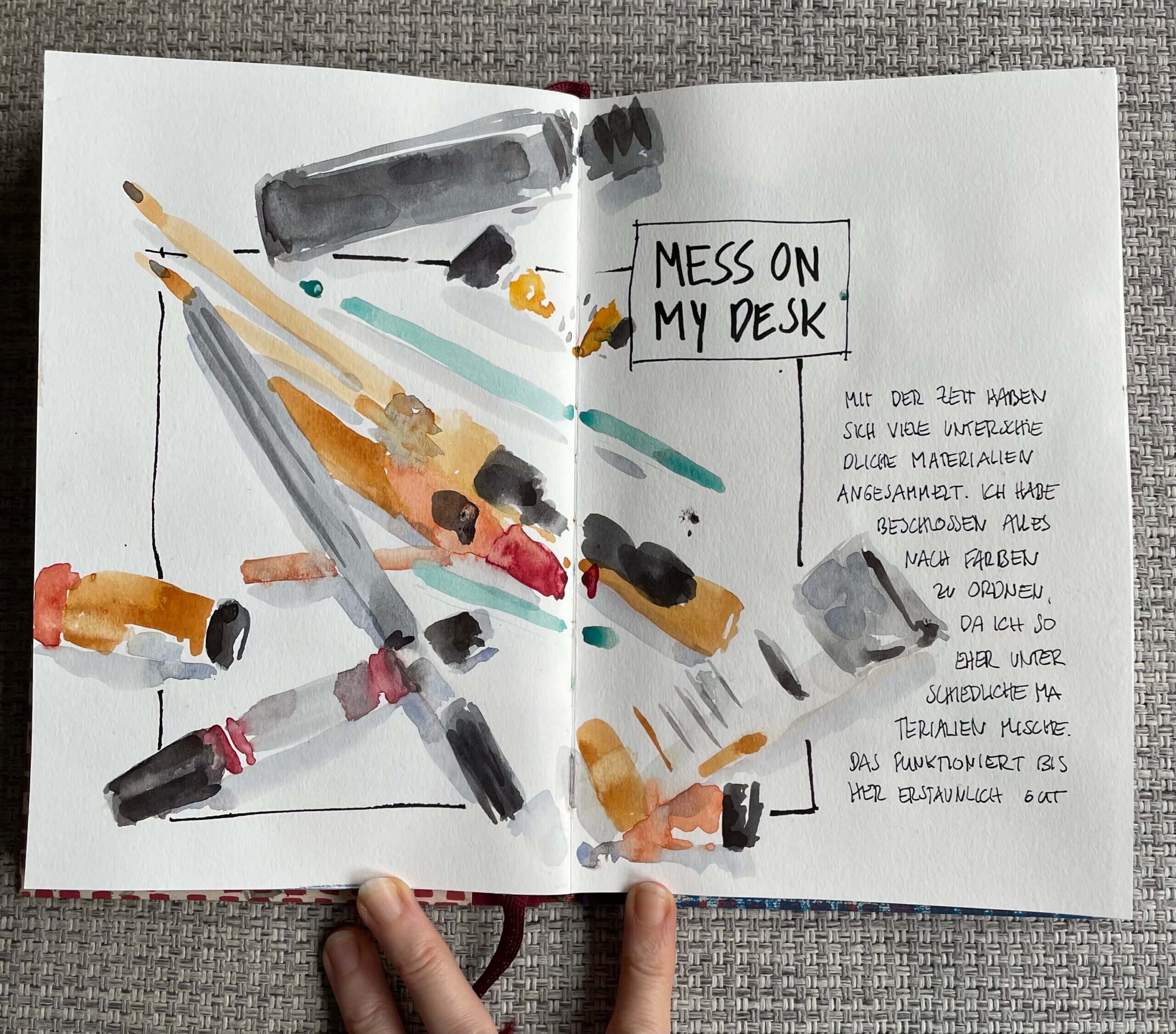 Swatching before painting
This learning is a very obvious one, so you might be laughing at me when you read this. I did bring a lot of different materials on location this year and I found it difficult to plan ahead and not use everything in one sketch and end up with a big mess. So I started with putting down colors and materials on a separate sketchbook to decide on what I wanted use for the final sketch. 
This resulted in a lot more experiments and lucky accidents because I could test mixing colors and materials separately without running the risk of ruining my sketch.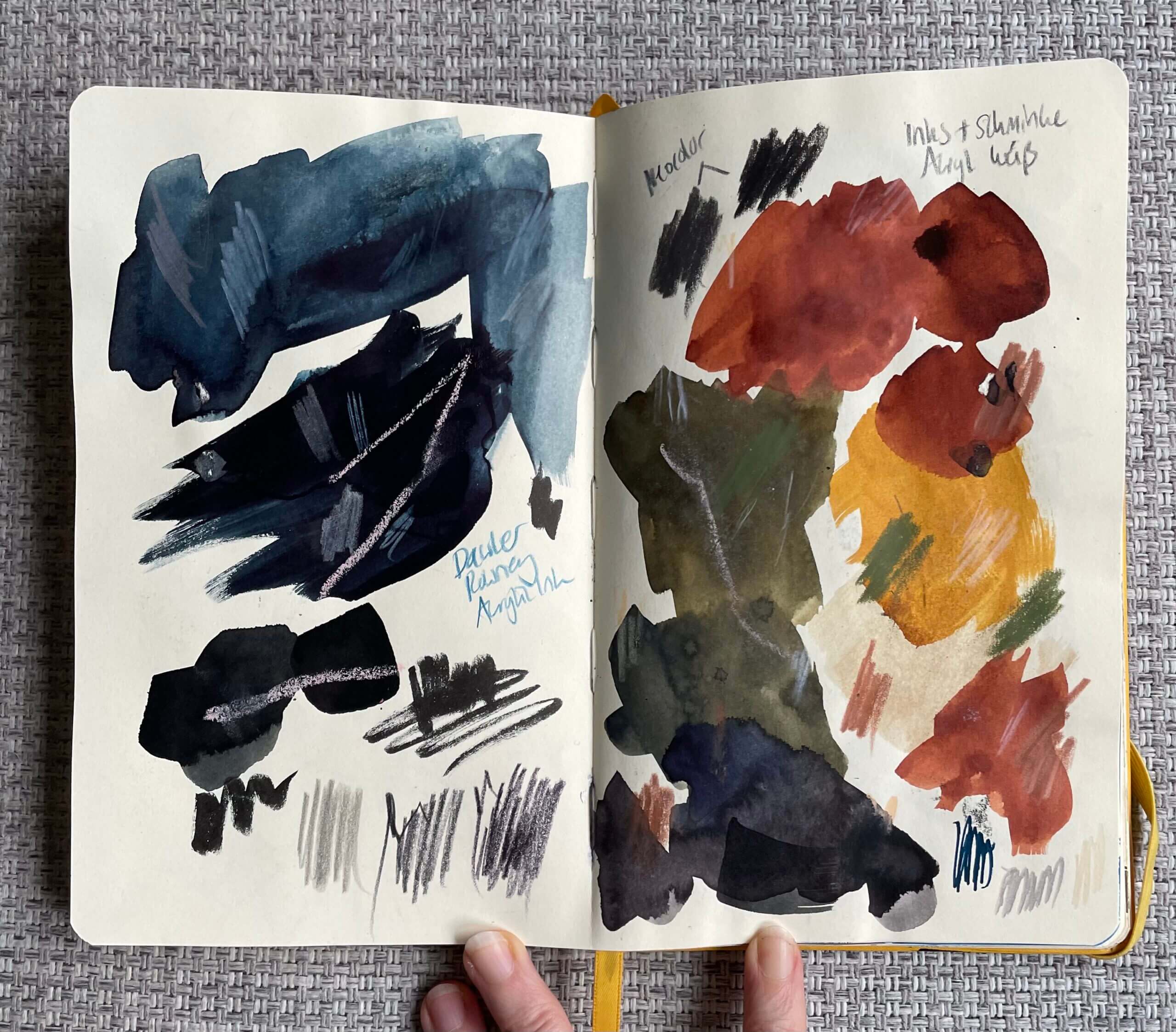 My favorite sketches of this year
This years favorite sketches are a mixture of mixed media and a more traditional approach of ink and wash.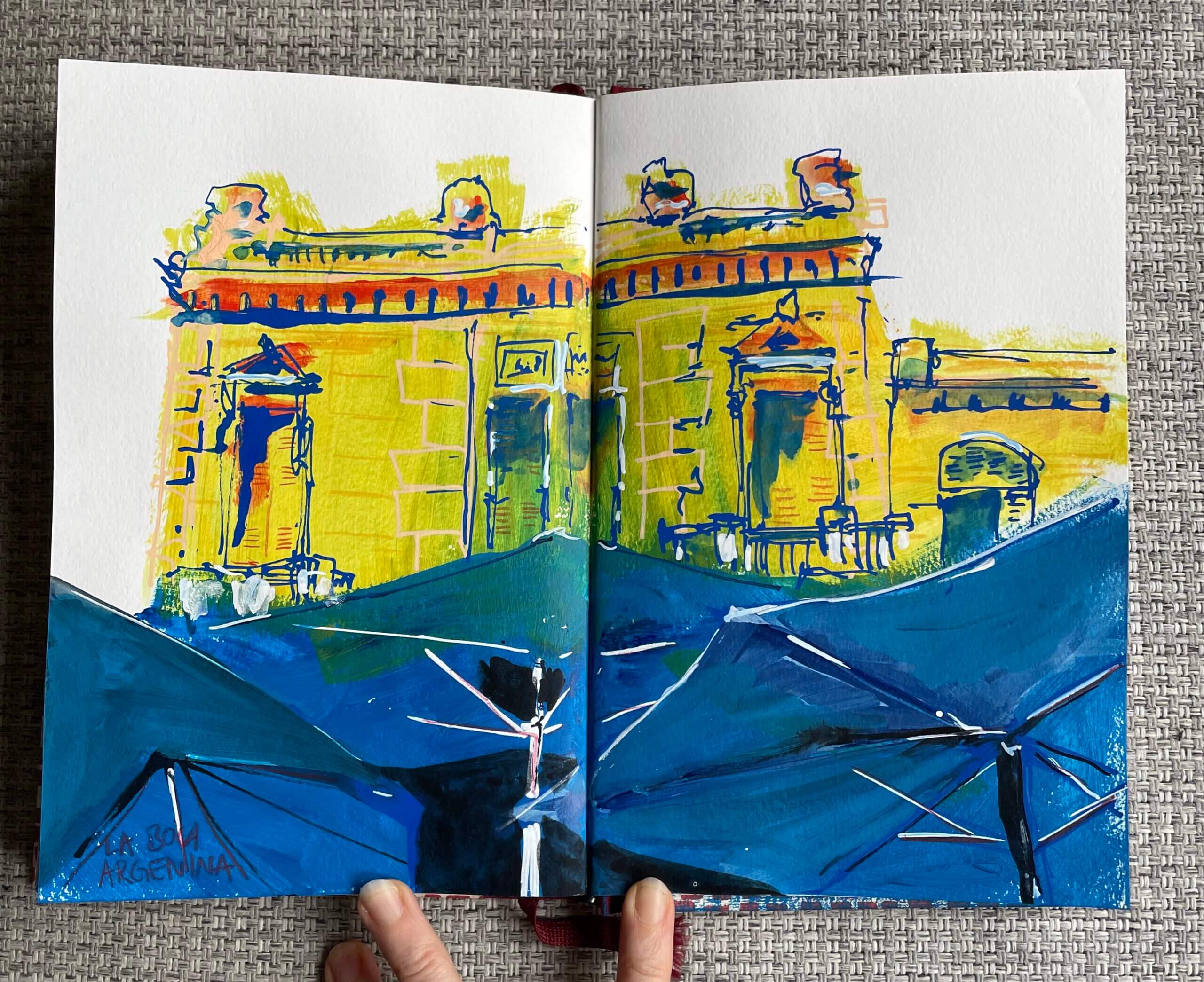 This sketch was from one of the google street view drawing sessions with georgieillustrates. I started with an acrylic layer in yellow and blue and then added details with acrylic markers and colored pencils.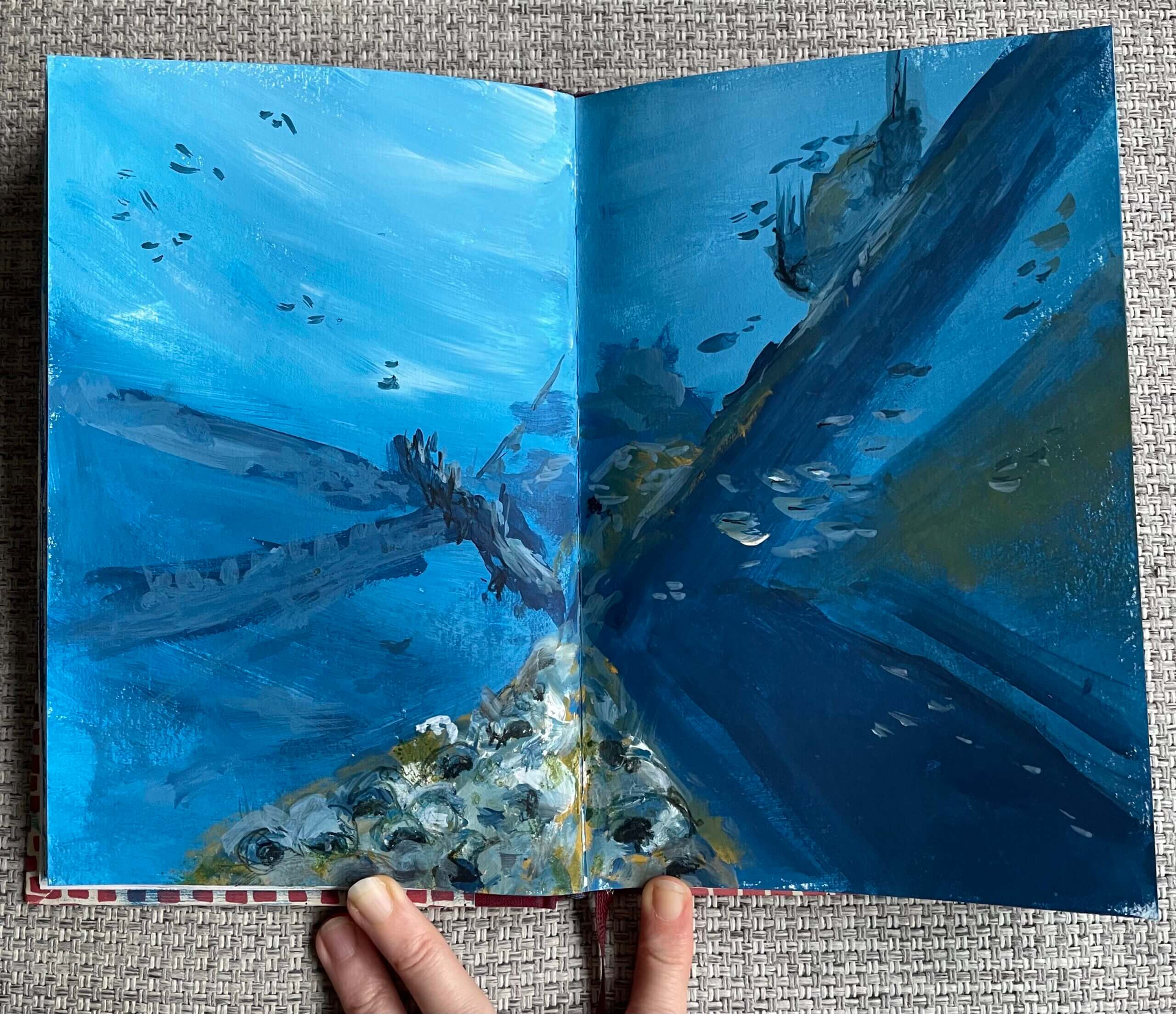 Another street view draw sessions took us below water. Yes, google street view can take you to quite amazing places. This one again is acrylic.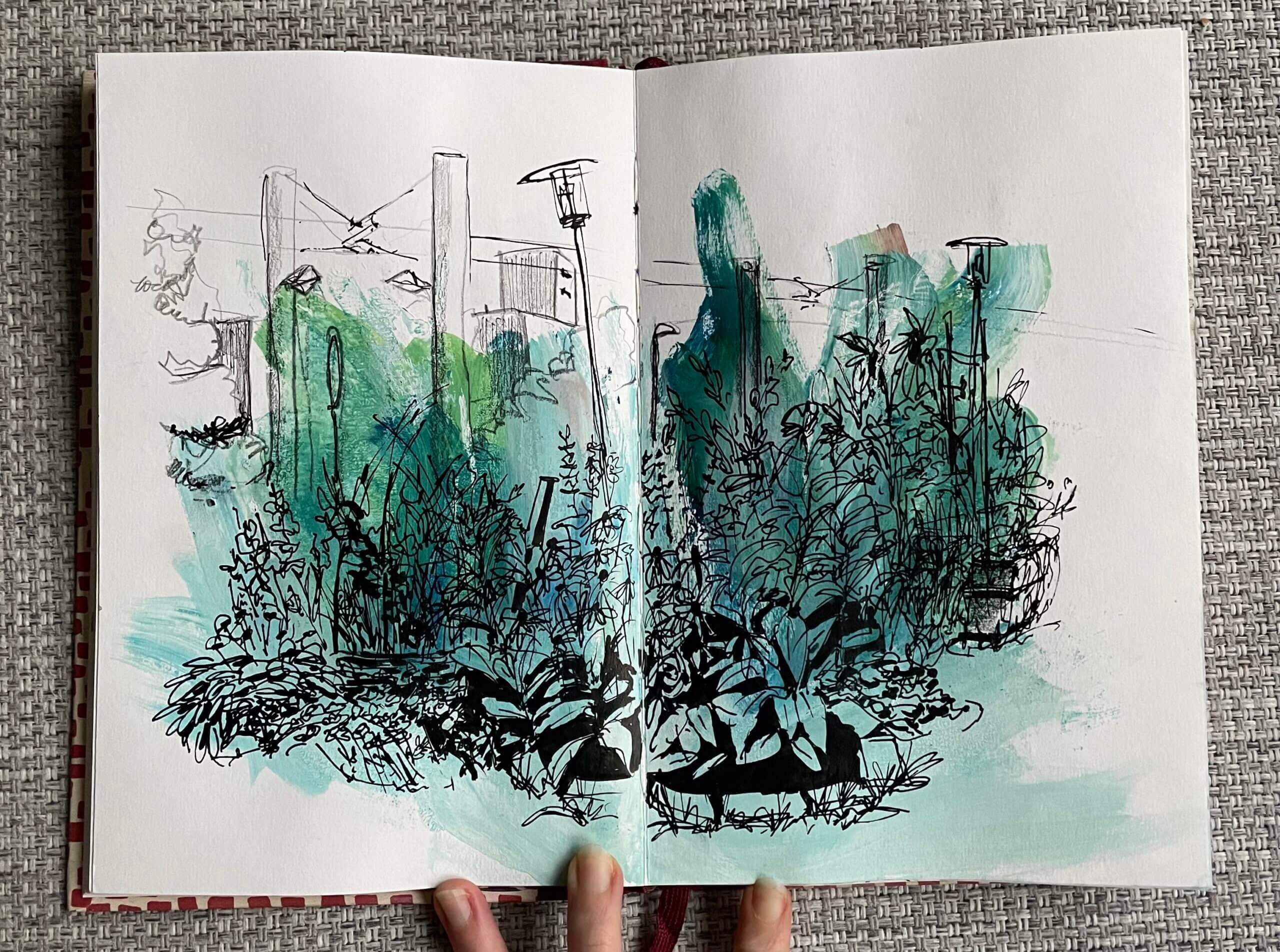 Whenever I had leftover acrylic paint I would put it in my sketchbook as a base layer for future sketches. In this case the green background was on the spread and I only added details with black marker and pencil.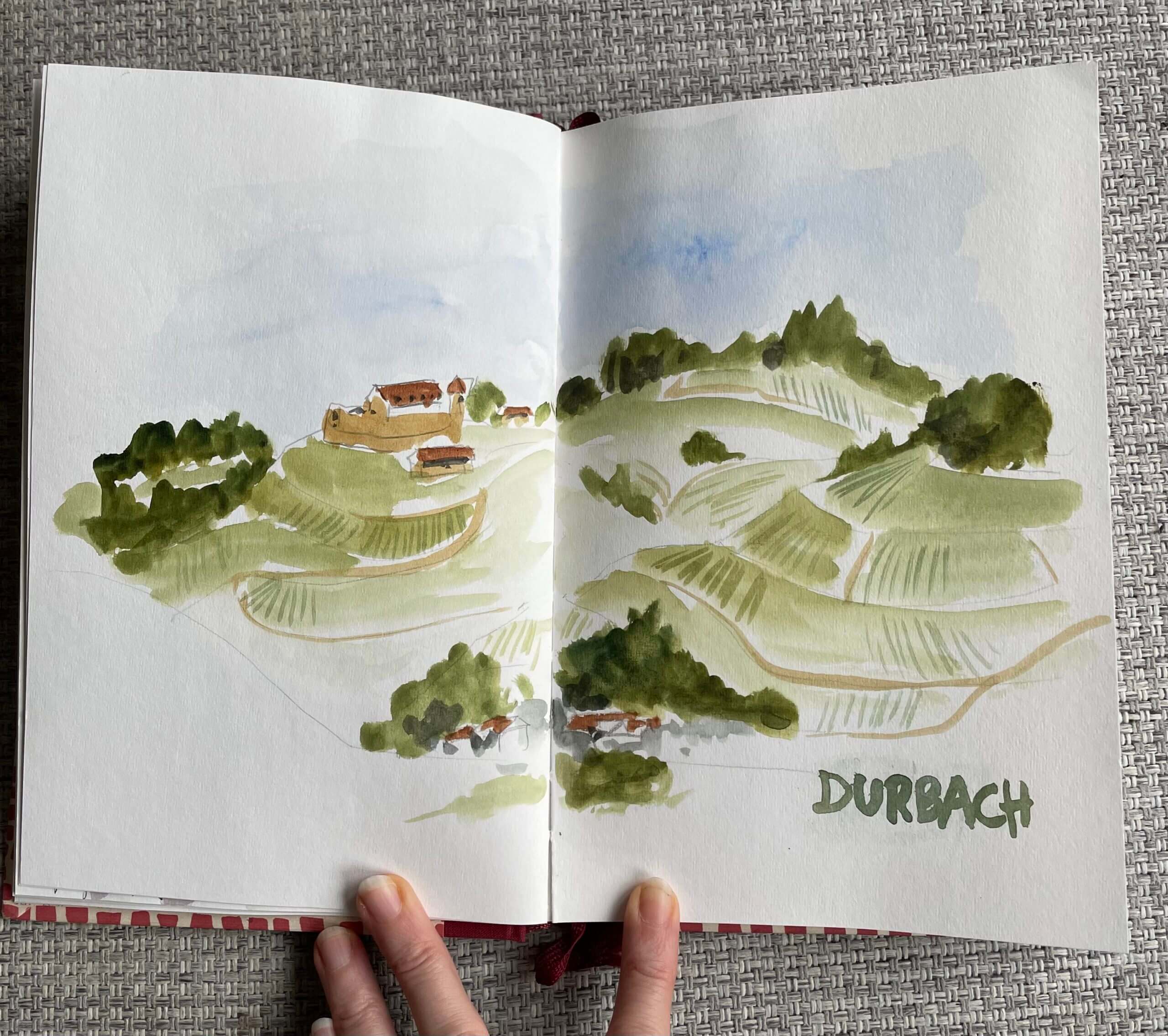 This one probably made it on the list of my favorite sketches because it is one of the rare on location sketches outside of my city. I liked the patterns in the vineyards.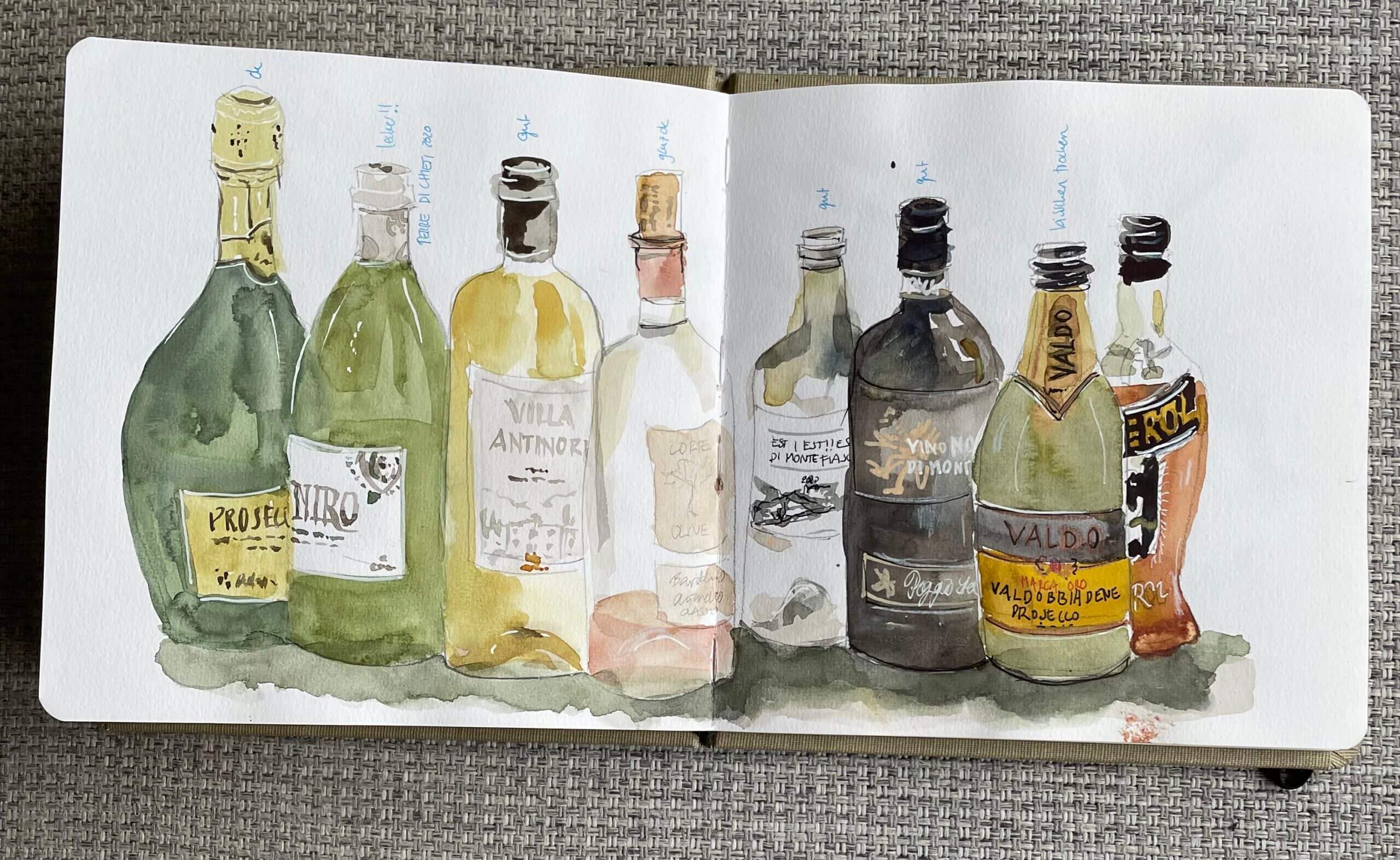 My entire travel sketchbook of the trip to Italy could be on this list but I picked this because it's a fun reminder of the great beverages :).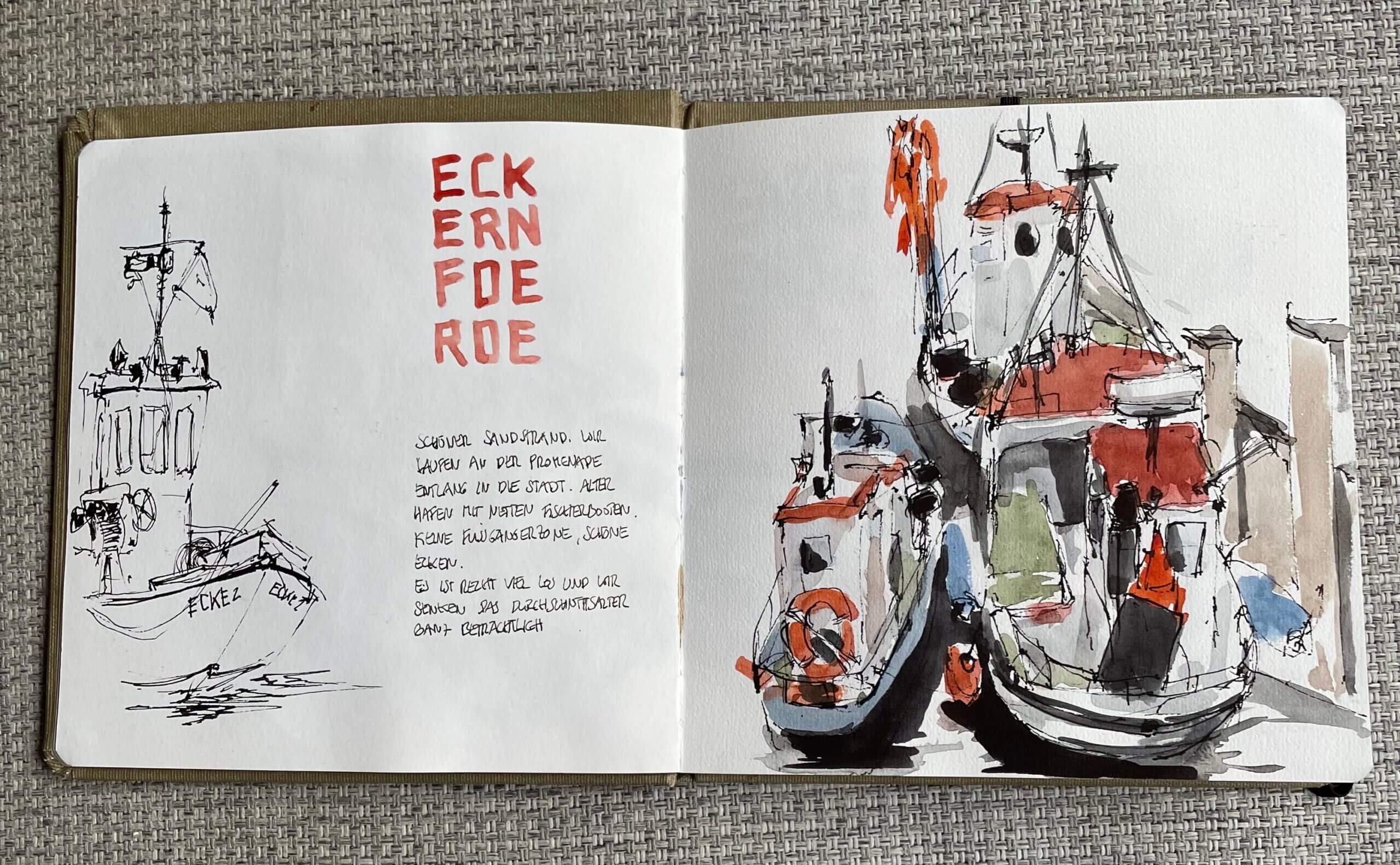 This is the second travel sketchbook from this year. I did spend time on finishing sketchbook pages and thinking about layout and design and really liked how some of the pages turned out.
Abstract explorations in acrylic
Online sketching was a great way to keep entertained during the corona winter. But I admit that after some time, I just didn't feel like sketching from a screen any more. So I ventured to more abstract stuff in acrylic. This sketchbook is filled with experiments and notes on what I liked and where I thought things could be improved.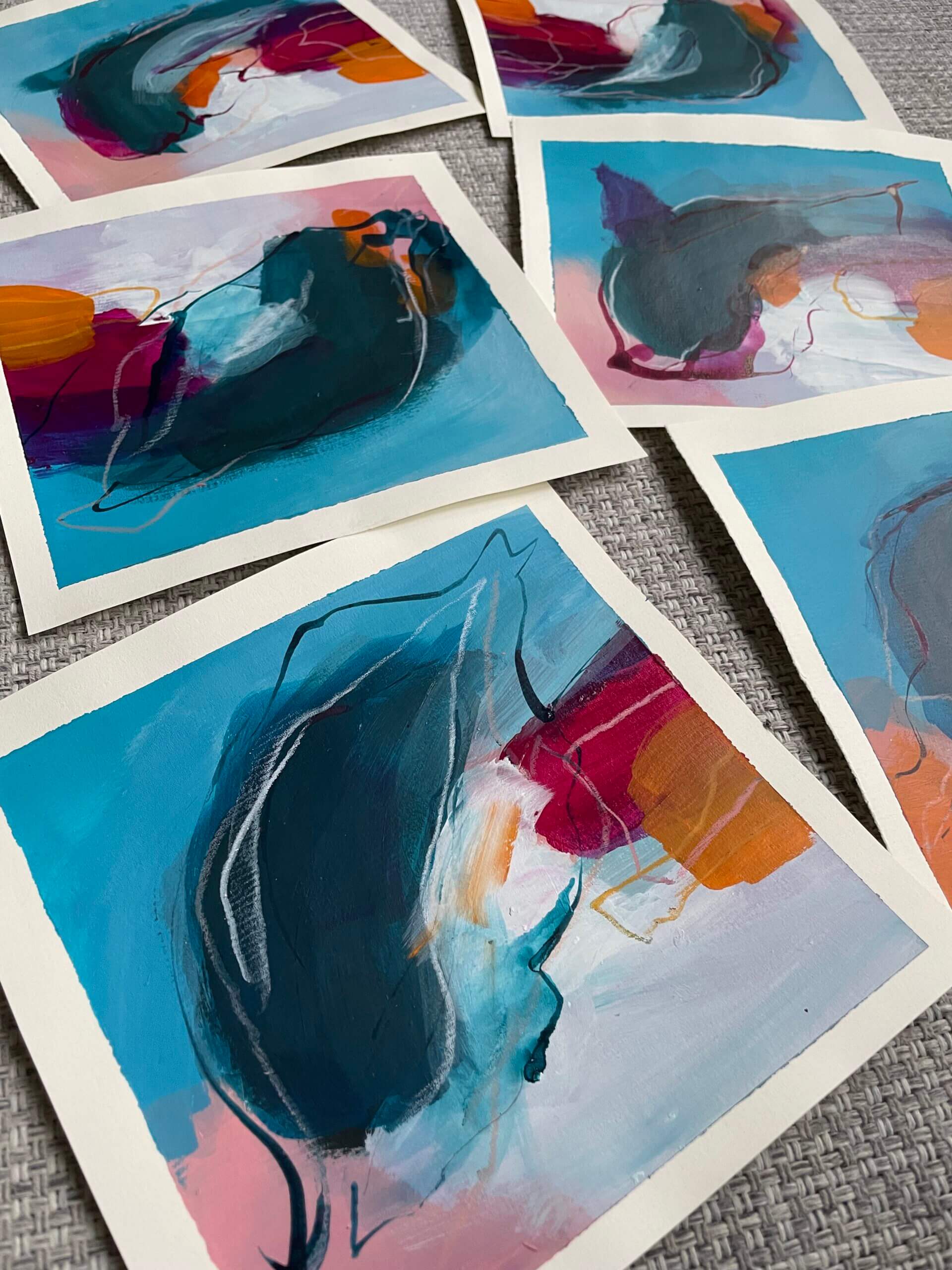 How did your sketching go this year? What are your learnings?